Ontario agriculture 'has a great future,' new ag minister asserts in Guelph interview
Guelph Mercury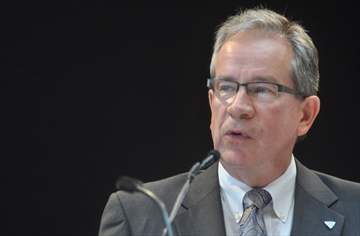 Jeff Leal
Rob O'Flanagan,Mercury staff
Ontario Ministry of Agriculture, Food and Rural Affairs Jeff Leal
Editor's Note: Jeff Leal is the new minister for the Ontario Ministry of Agriculture, Food and Rural Affairs, which is based in Guelph. Leal sat down earlier this month for a question-and-answer session with University of Guelph agriculture communication professor Owen Roberts, author of the Mercury's Urban Cowboy column. Here is their exchange.
Please talk about your perspectives on research and about the agreement between the ministry and the University of Guelph.
I'm a strong supporter of research and science that's been done in collaboration over many decades between OMAFRA and the U of G. It's been a great partnership that has produced unique research results, not only in Ontario and Canada but internationally, too. Currently, our ministry invests over $75 million to support science in the agricultural sector — a significant amount of money — and we look forward to seeing the results of that research, particularly research that can lead to the next phase, which is commercialization. Commercialization is key to a growing economy and it will be critically important to meet the premier's goal of 120,000 new jobs in the agri-food sector by 2020. Last year, we invested $20 million to build a world-class dairy research facility not too far from here, at the Livestock Research and Innovation Centre in Elora. This was an important investment; Ontario has been a leader in the dairy industry, nationally and internationally.
You mentioned dairy. Do you have concerns about supply management when you talk about the dairy industry?
My position is this: supply management yesterday, supply management today, supply management tomorrow, supply management forever. There's never been a better economic model in terms of farming than supply management. (It would be good if) supply management was used around the world, particularly in countries that are evolving … in many ways we skewed their agricultural operations by dumping (commodities) on them over many years. Supply management allows a very orderly domestic agricultural sector to evolve and be strong … and supply management doesn't cost the treasury one nickel.
Earlier, you mentioned the minister's challenge to the agri-food community for exports …
I believe it has great potential and is doable. We know food grown and processed in Ontario has a brand reputation nationally and internationally, and we should take advantage of it in the four corners of the world. A tentative trade mission is being scheduled in (the fall) to China; part of (MPP) Michael Chan's new responsibilities is international trade, and I've talked to him about how we might be able to profile and promote Ontario agri-food industries and explore opportunities in China and use that as a gateway to other countries.
How do you balance the need to export, and support for local food?
Co-operatively. One of the positive results of the minority government was all three parties working together for the Local Food Act. We know right now many farmers markets are in full bloom right across Ontario … strawberries and asparagus have never been better. I frequent the farmers' market in my hometown of Peterborough every Saturday … I always tell people to read labels in a grocery store, find out where the food is coming from. And your food choice, if possible, should always be local food that's grown and processed right here in Ontario.
Would you say local food is better, and what makes it that way?
I believe it is. In terms of food safety, we probably have one of the strongest frameworks for food safety in the world. We know when people are making a purchasing decision, safety is paramount and buying an Ontario food product is done in complete confidence.
The Good Things Grow in Ontario campaign has been very successful. Are there further plans for it?
We need to keep promoting that. I don't have a particularly good singing voice so I will not sing Good Things Grow in Ontario. But I remember reading a statistic that said next to McDonald's, the Good Things Grow in Ontario brand and slogan was the second most recognizable brand initiative (here), which goes to show you it's in the public conscience.
I've witnessed more people going to my hometown market, and now they can access VQA wines. There's been a great deal of discussion about the distribution of Ontario wines and spirits: it's a very logical extension to offer them at farmers' markets. Many people would also like to see craft beer and fruit wines available at farmers' markets. The watchword is you go one step at a time, then review to see if it's had the intended success as originally designed.
How about alcoholic beverages at corner stores?
The premier said very clearly that we have a distribution system that is working. For me, one of the great strengths of both The Beer Store and the LCBO is social responsibility. The number of people they refuse to sell beverage alcohol shows social responsibility and keeping people safe in their communities. That's a very strong part of our beverage alcohol distribution. I know from experience, people in my constituency who've had a loved one killed or severely injured at the hands of a drinking driver, and those stories are very compelling.
How about the right to farm and what it means to urban sprawl? I saw the Farms Forever program in your election platform …
Yes, we're looking at ways we can keep in production our farming sector and ways to protect Class 1 and 2 farmland. Ontario is blessed as one of Canada's provinces with a significant amount of the best farmland. We need to make sure we find ways — we brought in the Greenbelt, for example — to protect Ontario farmland. We build on the shoulders of others, and when Mr. [Bill] Davis was premier, he brought in the Niagara Escarpment Act because he was concerned every square centimetre was going to be paved over. The natural extension of that was for us to bring in the Greenbelt. A variety of people would like us to extend the Greenbelt. I think there are other positive ways in terms of urban design where we can take advantage — places to grow intensification, and the provision of public transit for urban developments to protect farmland in Ontario.
How would you feel about the Greenbelt expanding?
That's something we need to consider. There is a wide variety of interests and one of the things I've learned in politics is to listen carefully. As Minister of Rural Affairs, I received representation particularly from the Niagara Peninsula about ways to extend the Greenbelt. That will be something I will engage in and listen to very carefully.
Back to farmers' right to farm. How do you balance the interests of farmers and the traits that are inherent in farming — such as noise and smell — with the concerns of their urban neighbours?
The reality is if you move from downtown Toronto to rural Ontario you're going to have to put up with the smells and activity that go on there. That's just a fact. When people make that kind of a move they have to understand they are moving into a lifestyle that is part of Ontario's history, and there's a need to respect that history and tradition.
What commodities do you believe are on the rise in Ontario?
In my own riding of Peterborough, 10-15 years ago farmers didn't grow any soybeans. Today, I suspect the number of soybean acres in Peterborough rivals that of corn. Soybeans are an important cash crop and we export soybeans to international jurisdictions. Soybeans are being used to make biomaterials which has tremendous potential for Ontario's economy.
Are there any commodities that are on the decline in Ontario?
Tobacco … there have been initiatives to buy farmers out of tobacco. We've tried to work on alternative crops for people growing tobacco. Crop research is going on right here in Guelph for hazelnut research because that's a main ingredient of Ferraro chocolates, that's a big operation in Brantford and they have to source hazelnuts from outside of Ontario.
You are now the minister of the combined ministries of agriculture and food, and rural affairs. What are the implications to farmers of the ministries being combined?
I was the Minister of Rural Affairs for 13 months, and it was a real learning experience. I would meet with many agricultural leaders on the premier's behalf when she was doing other duties, and I got to know them quite well. The premier made a wise decision to combine the ministries because she wanted to know more about this sector of Ontario's economy – $34 billion GDP, 750,000 jobs – and I think that was the right decision for her to really get a thorough understanding of the sector.
What really excites you about Ontario agriculture?
This sector has a great future. I think the agricultural sector has great potential to grow jobs and retain jobs. We look around the world and many countries have an evolving middle class and evolving consumption patterns for quality food, and that quality can be filled by Ontario's agri-food sector.
What will be your biggest challenge?
Learning as much as I can about the agriculture sector as quickly as possible. Ontario's agriculture sector has individuals with a wide range of knowledge and I am anxious for them to share that with me.
Last question: going forward, how will you manage the neonicotinoid issue?
Ours will be a balanced approach. Pollinators are so crucial to the agriculture sector, and having healthy grain farmers being able to do what they do every day is paramount to the success of the agri-food sector. We'll base our decisions on sound science and bring everyone together in a common cause